Bonsoir! Voici la critique du tout dernier tome de
Superior
(mais je ferais tout de même les critiques de sa suite,
Superior Cross
)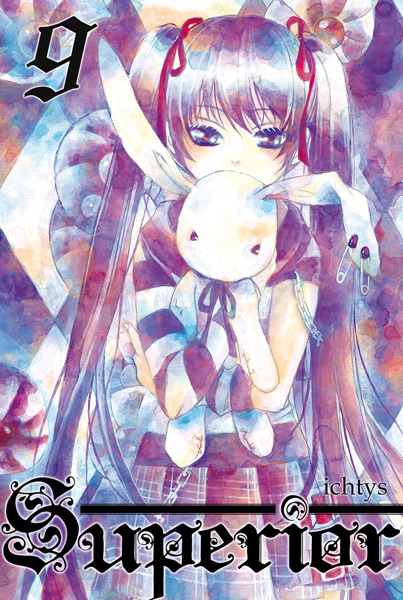 Résumé éditeur :
"
Après la défaite d'Hermann, voilà qu'une armée de monstres investit la cité! Exa, toujours prêt à rendre service, tente de persuader le chef des monstres de retirer ses troupes. Mal lui en prend : la créature lui entaille le poignet, et le héros ne doit la vie qu'a l'intervention de Lackshry !
Gravement blessés, les deux compagnons parviennent à semer leur assaillant en se faufilant dans les égouts de la ville, où ils vont faire une rencontre pour le moins surprenante ...
"
Chapitre 25. Believe :
Nos deux héros, grièvement blessés, rencontre le docteur
Altman
, brillant médecin qui accepte de les prendre en charge. Provoquant un petit temps mort dans l'intrigue, nous assistons au découragement complet d'
Exa
. Cette petite pause est donc la bienvenue; elle nous permet de souffler un peu après toutes ces péripéties, et de plus, permet de mettre au goût du jour la relation entre le Héros et son bras droit. Bref, pas extraordinaire, mais plutôt plaisant à lire.
Chapitre 26. Regret :
Une question se forme tout de même au bout de lèvres des lecteurs : qui est donc cet étrange monstre, qui semble plus vouloir protéger les habitants du village que l'envahir pour le roi démon. Ce chapitre retrace la vie du monstre, étant en réalité un ancien humain ayant péri sous la colère d'Hermann. Il y a une certaine routine avec ce genre de chapitres dans
Superior
: le méchant n'est jamais vraiment dénué de coeur. L'histoire du jeune homme, qui se nomme d'ailleurs Valentin, ne m'a pas vraiment ému, voire m'a un peu rendue lasse, traînant un peu trop à mon goût. De plus, il impose son émotion, ce qui m'a plutôt fait le contraire de l'effet désiré...
Chapitre 27. To be continued ... :
Avec une bonne dose de morale, le Héros et son équipe parviennent à convaincre Valentin, lui faisant rendre compte par la même occasion de sa stupidité. Il est vrai que Superior est un manga qui contient effectivement beaucoup de morale, peut-être même un peu trop. Il y a tout de même une étrangeté, qu'en tant que lectrice lambda, je dois relever. Pourquoi avoir caché l'âme de Valentin sous une apparence de monstre, si, depuis le début, il pouvait redevenir humain?
En
conclusion
, un tome que j'ai globalement moins aimé que les précédant, noyé dans les morales gentillettes et les bons sentiments. Pas que je n'aime pas ça, au contraire, mais j'ai trouvé que dans ce tome-ci, s'était trop.